$

5.50
1900 Magnolia Sea Salt Soap - 1 bar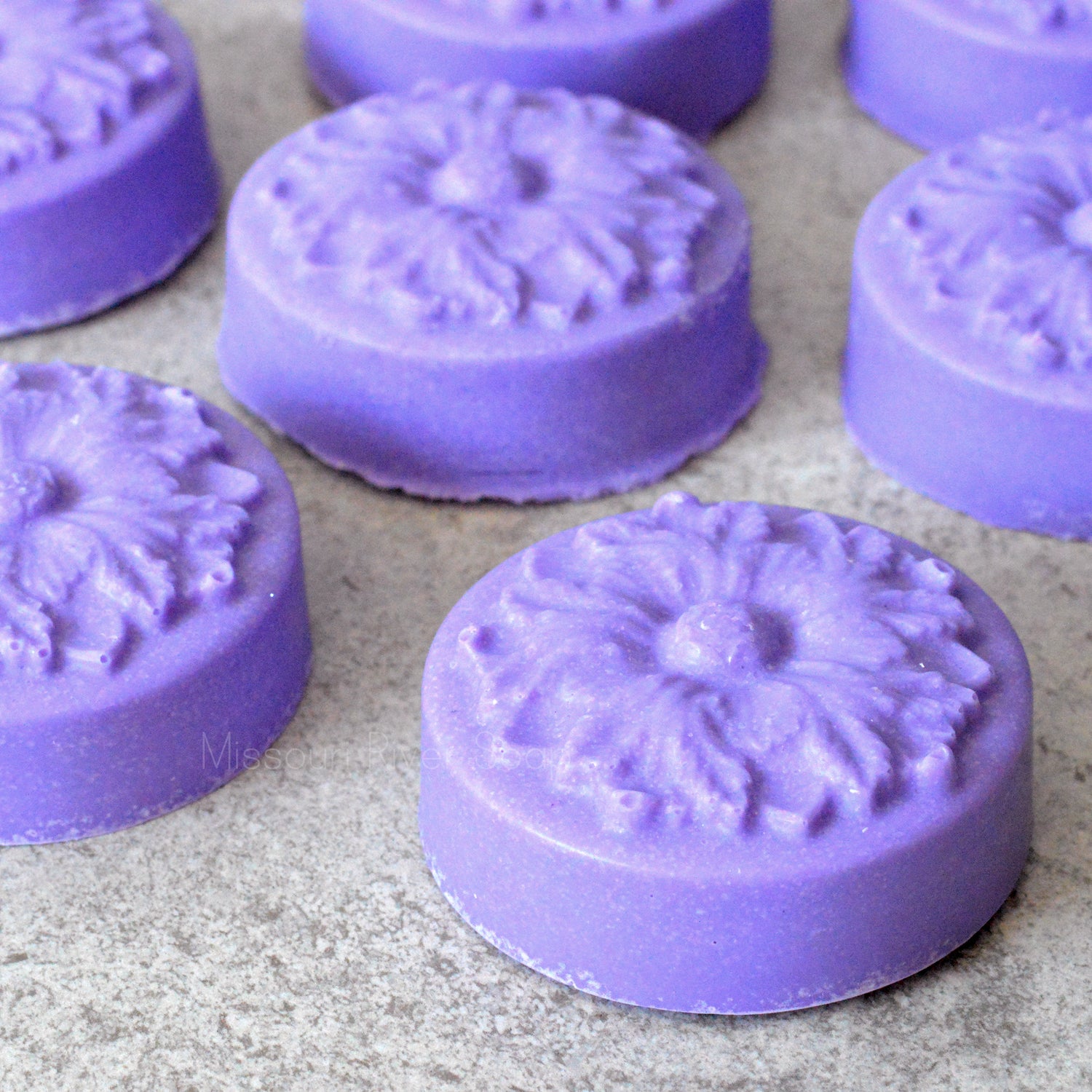 Our 1900 Magnolia Sea Salt Soap is scented in a blend of sweet blackberries and pink magnolias. It is girly and sweet! When doing ancestry research, I discovered that in 1900 that my family was living in Magnolia, West Virginia. I just thought 1900 Magnolia was such a fun way to send a shout out to my ancestors - formerly known as Southern Charm.
* Palm-Free
* Phthalate-Free
* Paraben-Free
* No Hydrogenated Oils
* No Animal Products
Sea Salt Soaps are very hard soaps with a creamy, dense lather. We use fine sea salt to avoid a scratchy bar. Sea salt soaps create a spa-like experience to make you feel as if you've just taken a dip in the ocean. Due to the salt content, sea salt soaps should not be used on sensitive skin or on open wounds. Salt soaps may be drying to some skin types.
You will receive ONE bar of soap - each soap weighs approximately 4.5 oz - Handcrafted Soap will continue to evaporate water and lose weight. This makes a finer, longer lasting bar - soaps arrive packaged in clear shrink wrap
Ingredients: Coconut Oil, Sea Salt, Distilled Water, Food Grade Sodium Hydroxide, Castor Oil, Organic Cocoa Butter, Organic Shea Butter, Fragrance (phthalate-free), Organic Coconut Milk, Kaolin Clay, Biodegradable Glitter
Not edible/Do Not Consume - For External Use Only - Keep Out of Eyes and Mouth - Discontinue Use If Irritation Occurs - Consult a Physician with Concerns
Caring for your soap: Store in a cool, dry place out of direct sunlight. When using your soap, be sure to allow your soap to dry between uses. Do not allow soap to sit in water. Handcrafted soaps have the natural glycerin remaining and glycerin is a humectant which draws moisture to it. We recommend a plastic or stainless steel soap saver doap dish insert. Handcrafted soap will get better with age, but the scent may fade over time. It's best to use your soap by one year from purchase.
Shipping: We predominately ship USPS Priority Flat Rate but we are forced to charge shipping per item now. This set-up makes it difficult to accurately charge shipping. For this reason, we will refund all excess shipping charges of $1.50 and up. Our shipping fees include a minimal $2.00 handling fee to help cover the costs of packaging supplies and shipping software/subscriptions. We do receive commercial shipping discounts that we pass on to you. Please contact us if you have concerns about International shipping costs. We are almost always able to ship your item(s) using a Flat Rate option that will you save you money. If International customers contact us directly, we can work the order behind the scenes and will be able to give you an accurate quote (excluding live releases as we are unable to pull from inventory in the first few hours of a live release.)
*all copyrights reserved 2017*
Please read store terms of use/policies/shipping policies before purchasing: http://missouririversoap.bigcartel.com/terms-of-use-store-shipping-policies